La settima stagione della serie ambientata nel mondo della carta nella piccola cittadina di Scranton in Pennsylvania, ha avuto un percorso un po' altalenante in termini creativi, seguendo il trend iniziato nella stagione precedente, con episodi non troppo esaltanti come "Christening" o "Counseling". Nonostante questi due passi falsi, The Office continua ad essere uno dei programmi migliori del palinsesto americano, in grado di offrire ancora molto al suo pubblico, e sono pochi quelli in grado di farlo dopo sette anni. (Basti pensare al netto calo avuto di recente da How I Met Your Mother, The Big Bang Theory o Glee).

L'ultima puntata andata in onda, "Classy Christmas", fa respirare la magia e l'originalità delle prime stagioni, con un Michael Scott (Steve Carell) in forma smagliante per il ritorno del suo grande amore Holly (Amy Ryan), e quelle gag che hanno fatto di The Office uno dei prodotti più completi e imperdibili sfornati per il piccolo schermo.
Cambiamenti
La storia di The Office è sempre stata incentrata sulla love story tra Jim (John Krasinski) e Pam (Jenna Fischer), e l'incredibile vita di Michael Scott. Con i primi due felicemente sposati con tanto di bambina (imperdibili gli episodi "Niagara" e "The Delivery") e Michael Scott vicino all'addio (Steve Carell ha annunciato che lascerà la serie prima della fine della settima stagione), gli sceneggiatori hanno capito che era il momento di esplorare a fondo gli altri personaggi che, a parte Dwight (Rainn Wilson) ed Andy (Ed Helms), hanno sempre avuto poco spazio.
The Nard Dog
Andrew Bernard ha fatto il suo ingresso nella serie all'inizio della terza stagione, come "salesman" di un ramo della Dunder Mifflin a Stamford, dove finisce Jim dopo essere stato rifiutato da Pam.
Dopo un matrimonio mai iniziato con Angela (Anglea Kinsey), Andy sembra trovare l'anima gemella in Erin (Ellie Kemper), la nuova receptionist. Ma durante la premiere della settima stagione scopriamo che tra i due è finita e che lei ora sta con Gabe (Zach Woods), direttore delle vendite dell'ufficio proveniente dalla Sabre.
Con questo colpo di scena The Nard Dog ottiene più spazio, diventando uno dei protagonisti di questo nuovo capitolo di The Office.
Andy ed Erin, potrebbero apparire come i nuovi "Jim e Pam", ma la goffaggine e l'insicurezza di Andrew non hanno nulla a che fare con lo charme e la sicurezza di Mr. Halpert. Andy e la sua disperata reconquista sono uno dei motivi principali per cui vale ancora la pena guardare The Office.
Angela e Dwight
Angela e Dwight hanno condiviso la love story più esilarante della serie. Dopo aver stipulato un contratto per procreare della prole, il più importante salesman dell'ufficio inizia un'improbabile "relazione" con Isabel, amica di Pam conosciuta al matrimonio di quest'ultima.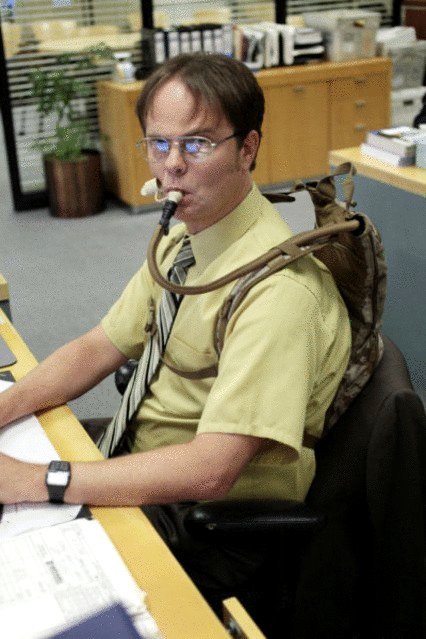 Dwight è però costretto ad onorare il contratto, ma il suo interesse per Angela o, come la chiamava amorevolmente, Monkey, è quasi svanito del tutto. Durante la fiera del fieno organizzata dal signor Schrute (che tra l'altro è diventato proprietario del palazzo in cui si trova l'ufficio), Monkey incontra la sua nuova fiamma, il senatore gay Robert Lipton (interpretato da Jack Coleman). E se lo dice Oscar (Oscar Nuñez) c'è da fidarci.
Ora che le loro strade si sono apparentemente divise, nascono due nuovi orizzonti da esplorare. Angela per la prima volta sembra felice e non così riservata e "odiosa" (come si fa ad odiare uno dei personaggi di The Office?) come prima. Dwight è più in forma che mai. La sua cattiveria non è mai stata così piacevole.
Daryl
Un po' di spazio lo guadagna anche il capo-magazziniere Daryl (Craig Robinson). Dopo che nell'ultima stagione è riuscito ad ottenere un suo ufficio, è sempre più presente. Lo vediamo nel ruolo di consigliere in amore di Andy, oppure in quello molto più difficile di padre. L'unico a dire il vero a cui manca una dolce metà nella serie, e nel suo caso forse è un punto di forza.
Gli altri
C'è spazio anche per i vari Ryan (B.J. Novak) Oscar, Creed (Creed Bratton), Stanley (Leslie David Baker), Kelly (Mindy Kaling), che a poco a poco si stanno ritagliando un ruolo più importante nella serie.
Imperdibile l'episodio Ryan-centrico, "Wuphf.com", in cui il cocco di Michael prova a far decollare la sua creatura Wuphf, in una puntata che diventa la prima reinterpretazione del capolavoro di David Fincher The Social Network.
The Office ritorno giovedì 20 gennaio con una seconda parte di stagione da non perdere, che si preannuncia piena di colpi di scena, risate e, perché no, qualche lacrima. Ma quello che conta veramente è: chi sostituirà Michael Scott?